Windows 365 – The start of a new era with cloud PC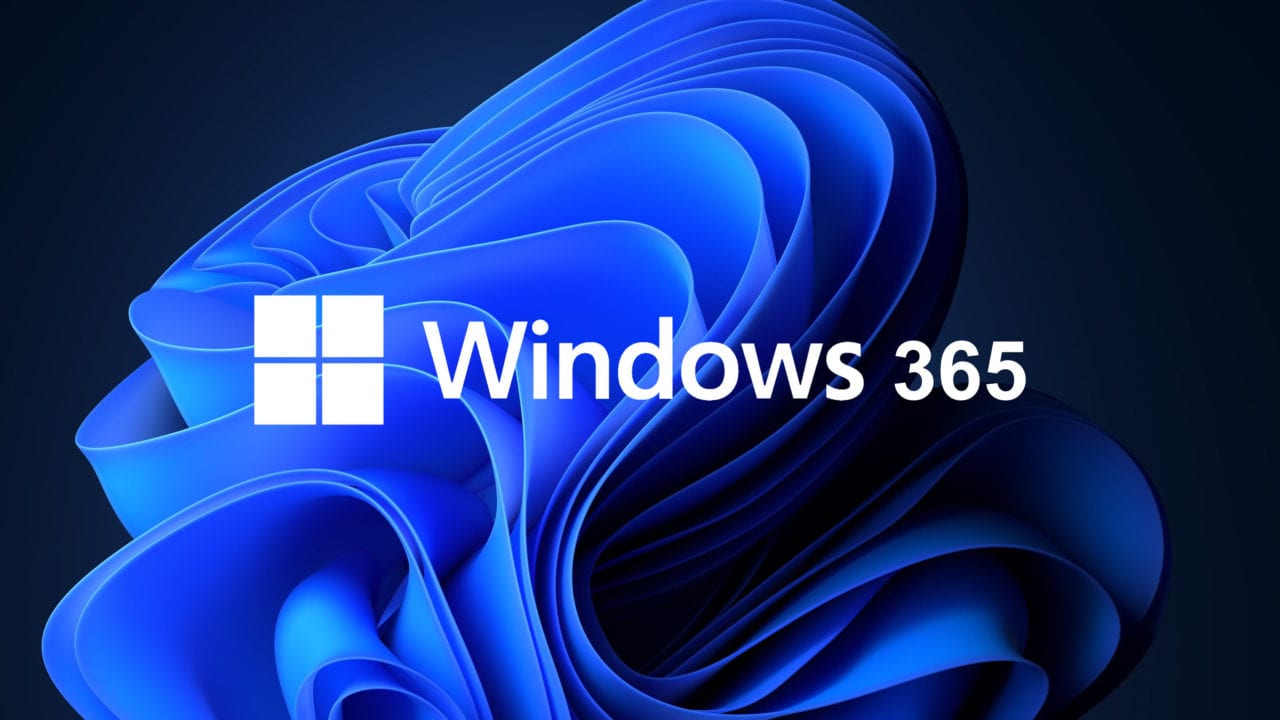 Windows 365 introduces a new way to experience Windows for all types of workers, from interns and contractors to software developers and industrial designers. Windows 365 takes the operating system to the Microsoft Cloud, securely streaming the full Windows experience including all your apps, data, and settings to your personal or corporate devices. This approach creates a fully new personal computing category, specifically for the hybrid world: The Cloud PC.
The Cloud PC provide a powerful, simple, and secure full Windows desktop experience that you can use to empower your workforce, regardless of location or device. Windows 365 provides an instant-on boot experience that enables users to stream all their personalized applications, tools, data, and settings from the cloud across any device including your Windows, Mac, iPad, Android, and coming soon Linux device. The Windows experience is consistent, no matter the device. You can pick up right where you left off, because the state of your Cloud PC remains the same, even when you switch devices.
And guess what, your organization can start to experience the power, simplicity, and security of a Cloud PC today. Windows 365 is already GA (General availability)
The core idea behind Windows 365 is that for a set monthly fee, you assign a Windows 365 license to a user and pick the appropriate Cloud PC size. (Range from 1 vCPU, 2GB RAM and 64GB HDD, up to 8 vCPUs, 32GB RAM and 512GB HDD) And then the user is up and running in no time.
Enterprise or Business
Windows 365 Cloud PC comes in two flavours, Enterprise and Business.
Enterprise cloud PCs are designed for organizations who have been or wants to use Microsoft Endpoint Manager to manage their Windows desktops. Enterprise cloud PCs require an Intune license for each user who is assigned a cloud PC. But there is also a range of extra features that Enterprise offer.
Business cloud PCs is designed for any organization that wants to deploy cloud PCs for 300 seats or fewer. There are no technology prerequisites; simply utilize the Windows 365 cloud portal to purchase, deploy and manage Cloud PCs. Business cloud PCs do not require an Intune license and are managed entirely by the user, similar to a standalone physical PC.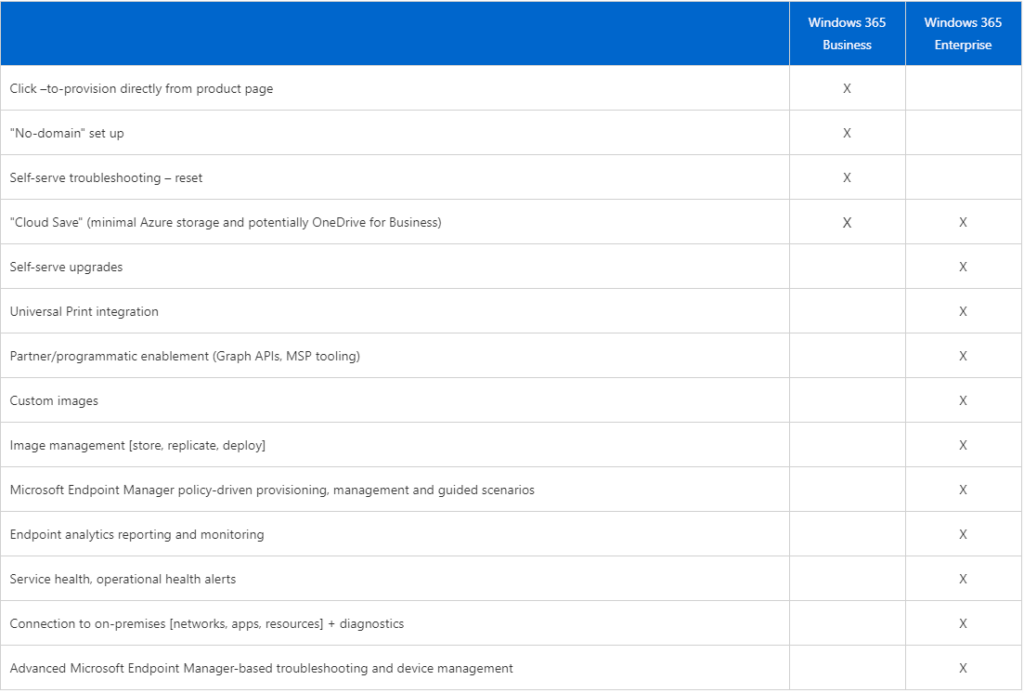 The end user can also manage their own Cloud PC´s from the portal:
Restart. Restarts the Cloud PC.
Rename. Changes the name of the Cloud PC shown to the user on windows365.microsoft.com.
Reset. Reset does the following:

Reinstalls Windows.
Removes your personal files (OneDrive data remains).
Removes any changes you made to settings.
Removes your apps.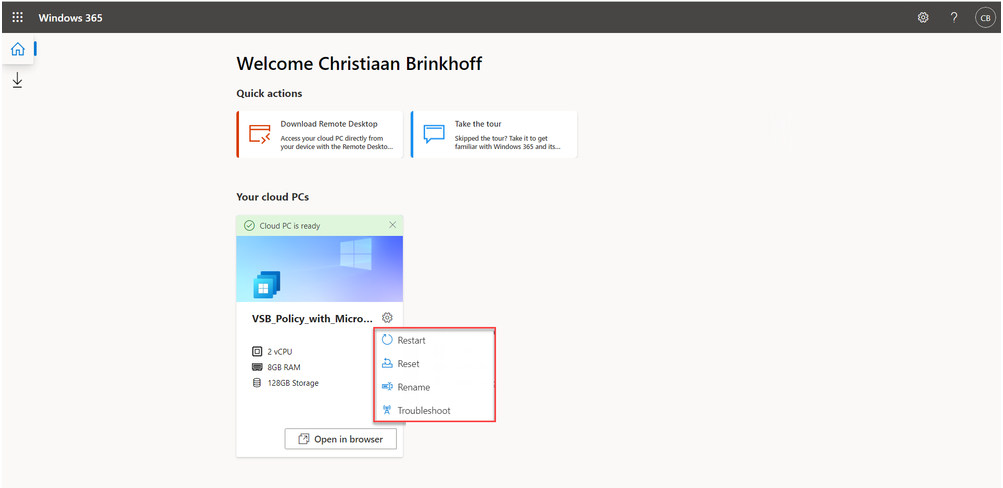 Windows 365 Enterprise technical requirements
To use Windows 365 Enterprise, you have to have the following requirements:
Licenses need in order to use Cloud PC/Windows 365:

Users with Windows Pro endpoints: Windows 10 Enterprise E3 + EMS E3 or Microsoft 365 F3/E3/E5/BP
Users w/non-Windows Pro endpoints: Windows VDA E3 + EMS E3 or Microsoft 365 F3/E3/F5/BP

Azure subscription

Subscription Owner (setup network connection)

Virtual Network (vNET) in Azure subscription

Azure vNET virtual Network must route to a DNS server that can resolve Active Directory records either on-premises or on Azure.

This AD must be in sync with Azure AD to provide hybrid identity in Azure AD
Microsoft Intune supported licenses (e.g. Microsoft 365 E3)
AVD vs Windows 365
Microsoft Windows 365 service and Azure Virtual Desktop (AVD) are both Desktop-as-a-Service solutions from Microsoft but there are several important differences between them.
Under-the-hood, both AVD and Windows 365 leverage a similar set of Microsoft cloud technologies. Technically, Windows 365 is built on top of existing AVD components but has a different transactional model. Windows 365 uses a fixed price model and AWV uses a consumption-based price model.
With AVD, you can implement pooled Multisession desktops. In Windows 365, every user gets an personal Cloud PC.
In AVD most of the resources are managed by you, in Windows 365 most are managed by Microsoft.
With Windows 365, all the building blocks are automated for you and Microsoft make sure that the service scales with you in the most optimized way possible to use Microsoft 365 apps. With AVD you need to manually optimize your environment.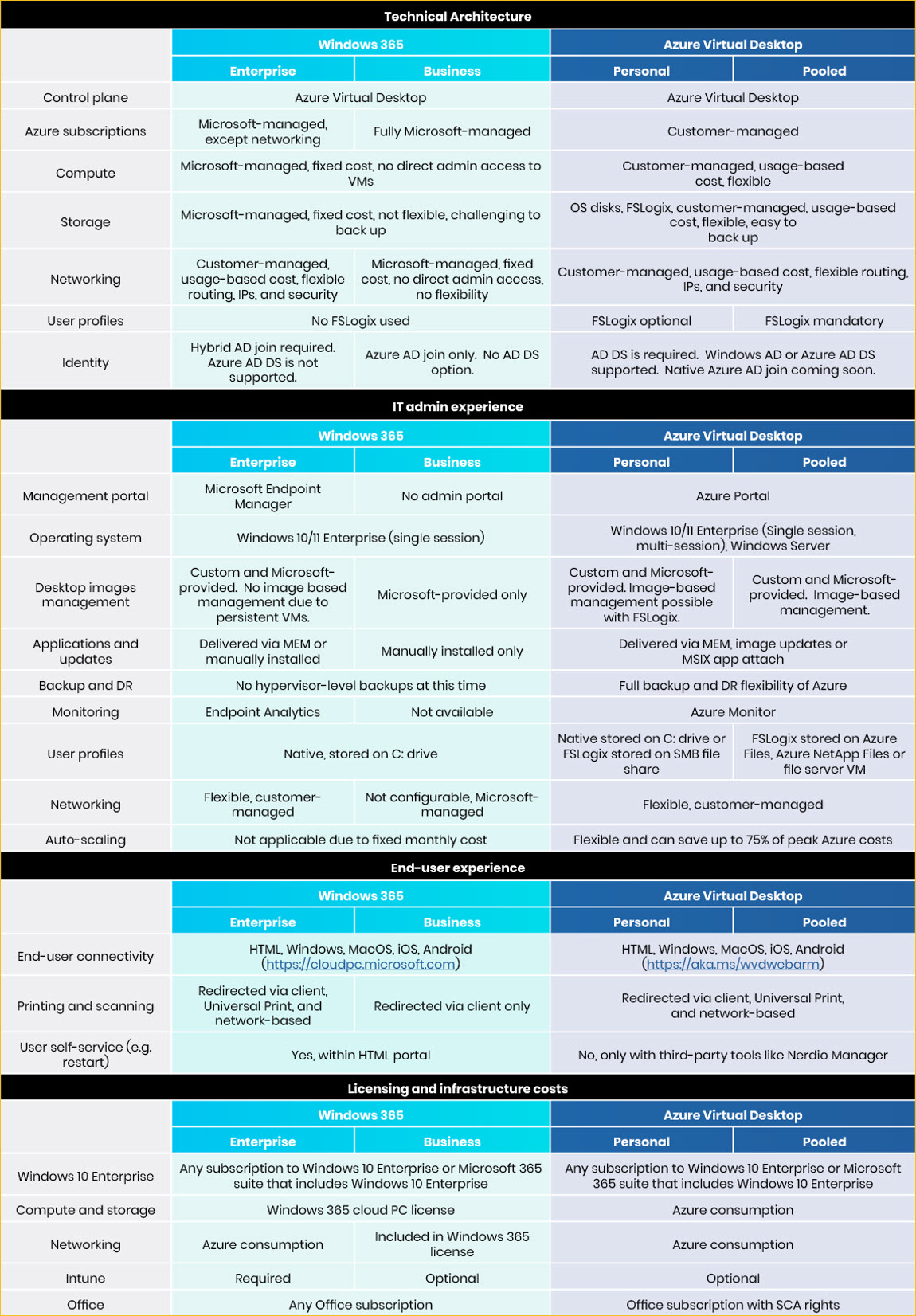 More resources for you:
Getting started with Windows 365 Business
Getting started with Windows 365 Enterprise
About Post Author