AZ-140 Configuring and Operating Windows Virtual Desktop on Microsoft Azure – My Tips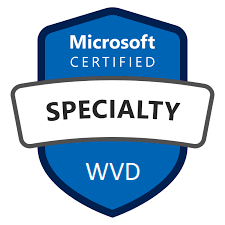 I have now taken the Beta of exam AZ-140. A really good exam that measures the knowledge needed when administering Windows Virtual Desktop solution. So now I have some tips on how to study for this exam.
Exam content
Plan a Windows Virtual Desktop Architecture (10-15%)
Design the Windows Virtual Desktop architecture
Domain Services (Azure AD DS)
Design for user identities and profiles
Implement a Windows Virtual Desktop Infrastructure (25-30%)
Implement and manage networking for Windows Virtual Desktop
Implement and manage storage for Windows Virtual Desktop
Create and configure host pools and session hosts
Command-Line Interface (CLI), and Azure Resource Manager templates
Create and manage session host images

Manage Access and Security (10-15%)
Manage access
Manage security
Manage User Environments and Apps (20-25%)
Implement and manage FSLogix
Configure user experience settings
Install and configure apps on a session host
Monitor and Maintain a Windows Virtual Desktop Infrastructure (20-25%)
Plan and implement business continuity and disaster recovery
infrastructures (VDIs), and golden images
Automate Windows Virtual Desktop management tasks
PowerShell and Azure Command-Line Interface (CLI)
Monitor and manage performance and health
My Tips
When I did my study for this exam I went through the following websites. Quite a lot of information to read, but when you are done you probably have answers to most questions on the exam.
Right now you can take the Beta exam with 80% discount on Microsoft Learn Blog
Good luck!
About Post Author