What's New in Windows 10 Version 2004

Microsoft is soon releasing the spring release of Windows 10. As you probably know, we will get one spring and one autumn release. The spring release will have support for 18 months while the autumn release will be supported in 30 months. The releases are aimed to be released in march and September. But sometimes (Like now) the release is late. Might also be to avoid mixup with Windows Server 2003. So we will have an April release Windows 10 2004. The biggest improvment according to me is the new Deployment and optimization features.
Cortana
Microsoft is evolving Cortana from a general digital assistant to a personal productivity assistant that also helps you in the Microsoft 365 apps you use to get things done every day. As part of that evolution, they´ve made several changes that will give you a glimpse into how your assistant will help you manage tasks and time and connect with people.
Here's what you can expect in the updated Cortana app:
Undocked the app from the taskbar, so now you can move or re-size Cortana like any other app.
Choose if you prefer typing or speaking. Made it easy for you to configure your default input via Settings > Talk to Cortana,
Improved email skills lets you use Cortana to create and query emails:

"Send an email to <name> letting them know I'm running late"
"Show me emails from <name>"

Improved calendar skills lets you create and query meetings:

"Set up a 1:1 with <name> at <time>"
"What's my next meeting?"
"Join my meeting" (This only works for Teams)

Improved Windows skills lets you use Cortana to open apps and adjust settings:

"Open Paint 3D"
"Change the brightness"

Cortana has no longer support for connect accounts, so now your work and personal accounts are two separate experiences based on whichever account you sign in with. If you sign in with a Microsoft account, you'll interact with your personal information. If you sign in with a work or school account, you'll interact with your business.
Windows Search
Microsoft has built a new algorithm that detects high disk usage and activity, so it can better identify peak usage times and manage the indexer accordingly. Developers can also prevent searches of certain repositories and folders to improve performance.
Four new focus search areas has been identified and will be quickly available
Weather: Get the weather forcast
Top news: Read the latest news
Today in history: History events that happened on this day
New movies: Movies on theater in your area

Windows Explorer has also been upgraded to use Windows search and a facelift. Also Onedrive and Sharepoint will be indexed for a better search result.
Windows Hello
Now you can remove password completely when logging in to windows 10 with your personal Microsoft accounts. Go to Settings > User Accounts > Sign-in options. And select "Make your device passwordless." This is a step closer to our passwordless world.
Windows 10 2004 also get support for Windows Hello PIN in Safe mode.
Windows Defender Application Guard
Defender Application Guard have only had support for "old" Edge in previous versions. Now we get a highly requested addition, support not only for new Edge cromium but also for Microsoft 365 Apps (Office 365 proplus).
Application Guard for Microsoft 365 apps is automatically enabled when Application Guard policies are enabled in Windows 10, the documents are being opened with a Microsoft 365 apps, and the user opening the document is assigned a Microsoft 365 E5 license or a Microsoft 365 Security E5 license.
Windows deployment
When it comes to setup and deployment there is some really good new features. This will help us not to disturb end users when updating to Windows 10 version 2004. With Windows 10, version 2004, offline time continues to decrease, from a median time of over 80 minutes in version 1703, to less than 20 minutes in version 2004, including only a single reboot for many users. These options can also be controlled by you when deploying with new setup commands. But it might require some new designs of your deployments.
/skipfinalize. Silently runs without user interference. Allow users to continue work. Allow user reboots without finalizing the Windows update. No restart only prepare installation until first reboot
/finalize – Restart and finalize the installation
/priority low – Setup runs in low priority.
setup /auto upgrade /dynamicupdate nodrivers – This will get the updates but skip drivers
setup /auto upgrade /dynamicupdate nodriversnolcu – This will get the updates but skip drivers and skip the latest Cumulative Update
setup /auto upgrade /dynamicupdate nolcu – This will get the updates but skip the latest Cumulative Update
/setupdiag – will be the same as running the separate tool setupdiag
We have also some new Improved controls for the reserved storage
Windows 10 recovery from the cloud
If your windows isn´t working as it should the recovery function has been a good reset of your PC. But this model required a local recovery image. Now this can be done from cloud! Big improvement.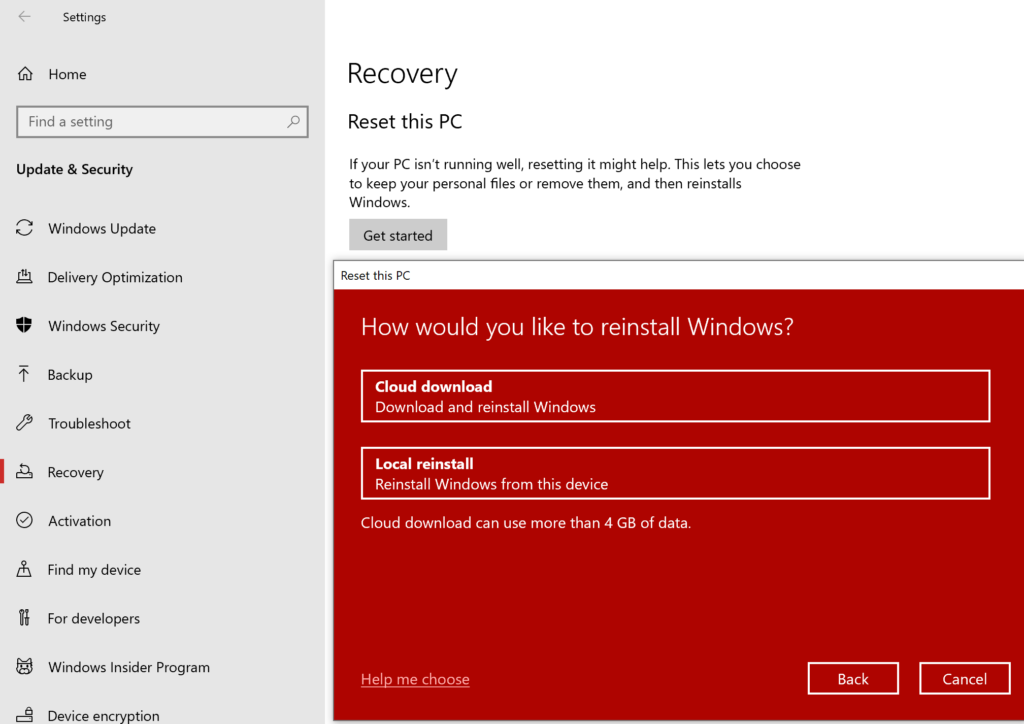 Delivery Optimization enhancements
In Windows 10 version 2004 we get a facelift in the settings dialog and specifically the Activity monitor of delivery optimization.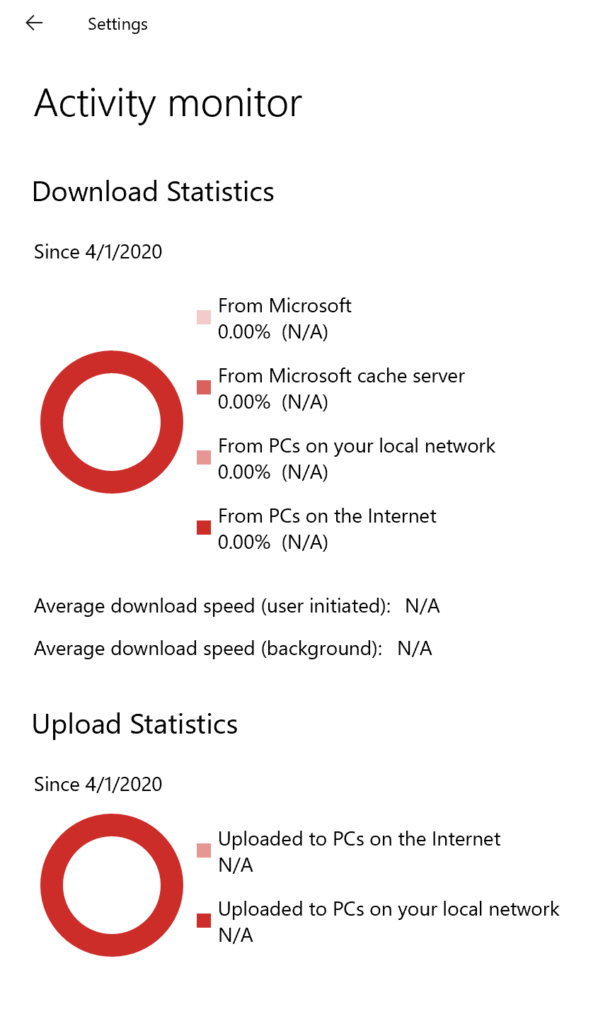 Enterprise network throttling
Enhancements to optimize foreground vs. background throttling.
Automatic cloud-based congestion detection
This feature will leverage the power of the Delivery Optimization cloud service to help identify download storms on your network. In short, the existing policy to delay background downloads from HTTP will indicate that the cloud service is allowed to dynamically back off downloading updates from the cloud for some devices (while continuing to leverage local peer sources). Similarly, the same feature can help improve overall peer utilization by dynamically choosing which devices can download updates first.
There are also some new powershell commandes:
Get-DeliveryOptimizationStatus -PeerInfo
For a real-time peak behind the scenes on peer-to-peer activity (for example the peer IP Address, bytes received / sent)
Get-DeliveryOptimizationLogAnalysis
Get a summary of the activity in your DO log (# of downloads, downloads from peers, overall peer efficiency). Use the -ListConnections flag to for in-depth look at peer-to-peer connections.
Enable-DeliveryOptimizationVerboseLogs
For greater level of detail to assist in troubleshooting
About The Author