A new browser is coming!

Microsoft has started an Insider program for their new browser Edge! Yes, same name as the old one but with a compete new engine based on chromium. The best browser for Microsoft 365!
Like to start testing? Just sign up, select channel and download!
https://www.microsoftedgeinsider.com/en-us/download


The installation will be side by side with the old Edge, letting you still use the old one!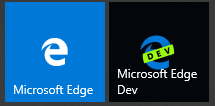 This browser will be made available for more devices, not just Windows 10. Listed so far is Windows 7-10 and Mac OS. This vill be awesome!
About Post Author