Onedrive Known Folder Move med Intune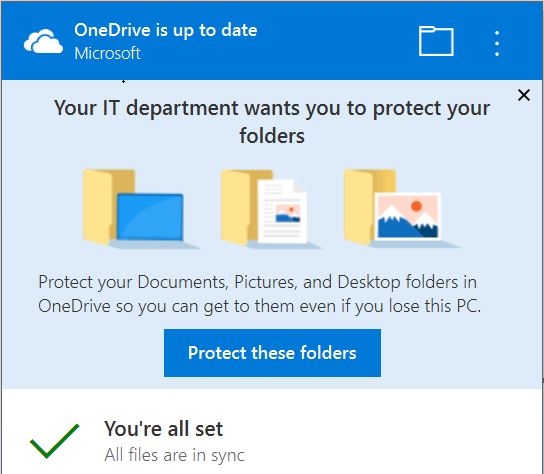 En av förutsättningarna för att kunna byta ut hårdvara och resetta datorer med Intune och Autopilot är att användarna behåller sina filer och inställningar.
När det gäller inställningarna rekommenderar jag att aktivera Azure Enterprise State Roaming. Denna är fantastisk och tar med det mesta en användare behöver. Dessutom är den anpassningsbar med MDM eller GPO. Följande inställningar inkluderas:
Teman: skrivbordsbakgrund, användarpanel, Aktivitetsfältet plats, osv.

Internet Explorer: webbhistorik har angett URL: er, Favoriter, osv.

Lösenord: Windows Autentiseringshanteraren, inklusive Wi-Fi-profiler

Språkinställningar: stavning ordboken, systeminställningar för språk

Hjälpmedel: Skärmläsaren, Skärmtangentbordet, Skärmförstoraren

En mängd settings för Windows: konfiguration av windows i settings

Edge inställningen: Microsoft Edge-Favoriter, läsning lista och andra inställningar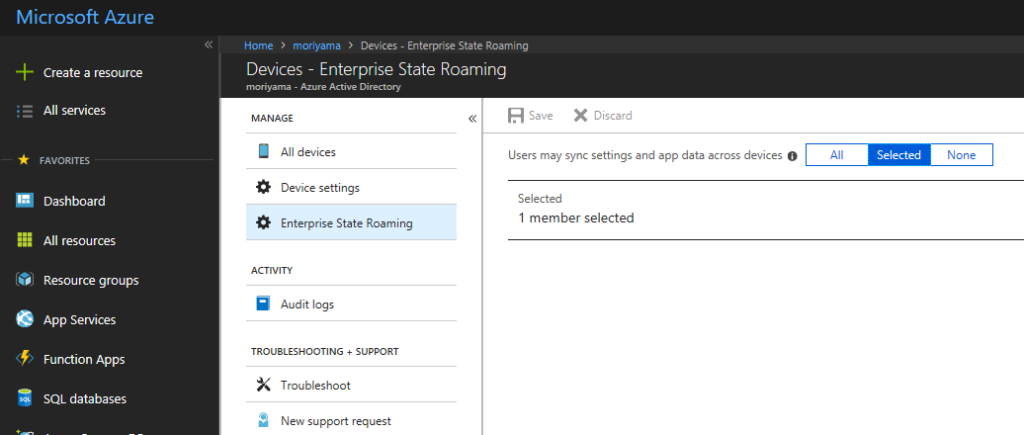 För filerna har nu  Microsoft äntligen lagt fram ett koncept som döpts till OneDrive Known Folder Move. Denna kan flytta och omdirigera användarens filer till OneDrive. Detta avser dock enbart Skrivbordet, Mina Dokument och Mina Bilder. Hoppas fler folders kommer framöver.
Med OneDrive Known Folder Move kan man reglera hur det skall aktiveras med GPO. Det går att aktivera en Manuell migrering där användaren aktivt måste gå igenom en wizard för att flytta sina filer.  "Prompt users to move Windows known folders to OneDrive"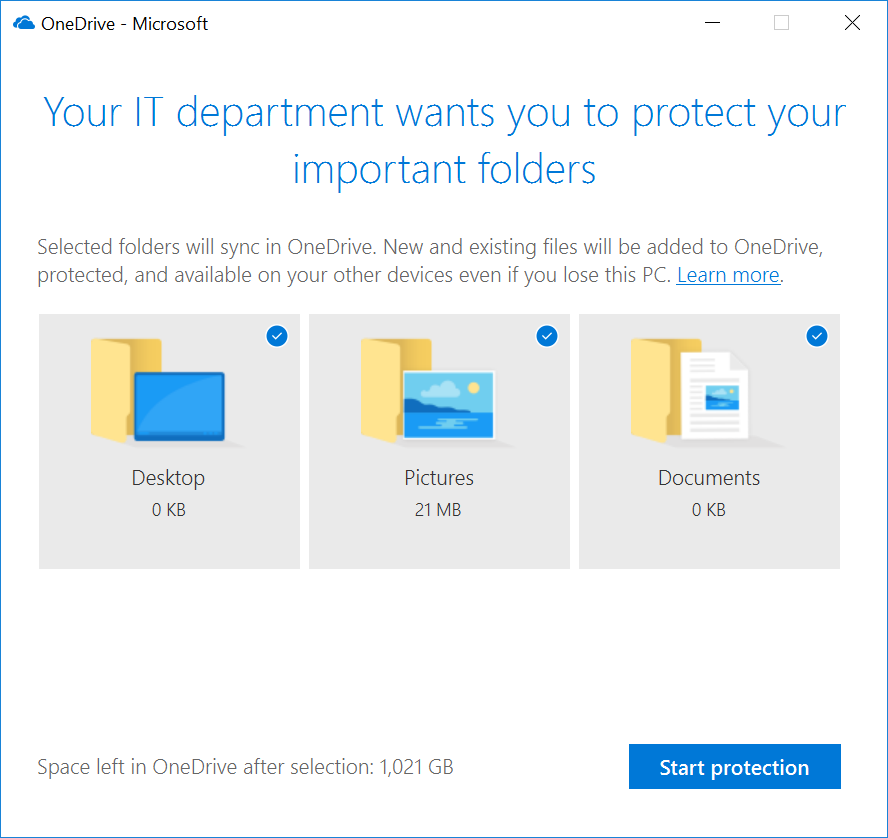 Men jag rekommenderar att göra detta utan användarens inblandning genom att istället aktivera Silent migration. "Silently move Windows known folders to OneDrive". Men en liten varning. På versioner av Onedrive före 18.171.0823.0001 fungerar detta inte! Enbart tomma folders migreras. Efter 18.171.0823.0001 fungerar det strålande, så se till att uppdatera era onedrives innan utrullning av detta.
Det går även att modifiera lite settings kring hur användaren får interagera och ändra settings kring detta:
KFMSilentOptInWithNotification – Display a notification after successful redirection
KFMBlockOptOut – Prevent users from redirecting their Windows known folders to their PC
KFMBlockOptIn – Prevent users from moving their Windows known folders to OneDrive
Microsoft har lovat att detta ligger i roadmap för att kunna aktiveras genom Intune. Men tills dess måste vi lösa det genom egna lösningar. Jag har byggt ett powershell script som använder Intune management extension och Powershell för att aktivera detta med lyckat resultat. Givetvis upplagt på scriptcenter
Detta script skall schemaläggas för dator och köra som system för att aktivera settings för OneDrive Known Folder Move.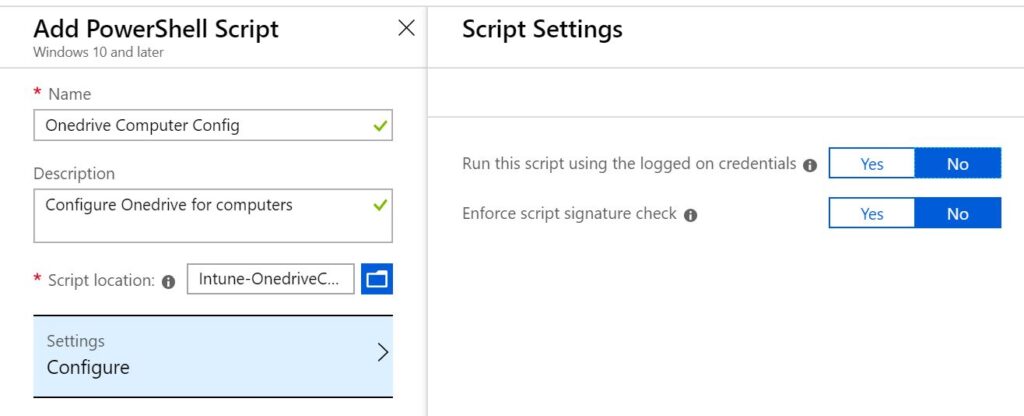 När jag ändå var igång gjorde jag även ett script för att konfigurera User settings för Onedrive. Detta script måste givetvis köras som user så att användaren får dessa inställningar. Även detta upplagt på scriptcenter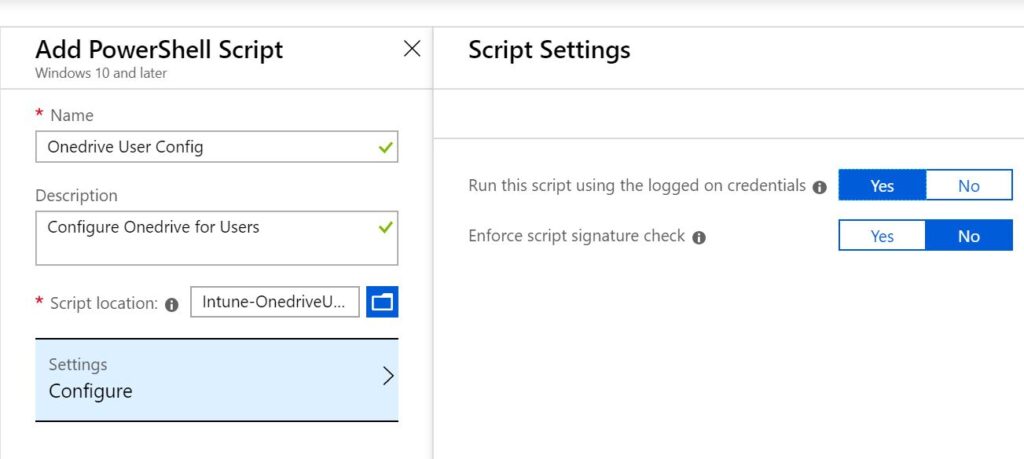 Happy Happy Joy Joy!
About Post Author