Mr T-Bone Speaker@Techdays Sweden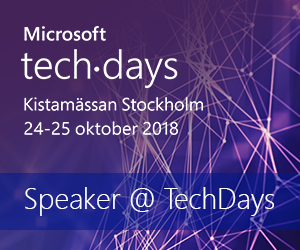 Jag kan stolt meddela att jag är en av de utvalda talarna på Techdays Sweden!
Kör en session Autopilot om hur du kan anpassa dina datorer:
Intune Autopilot – Behöver jag fortfarande göra anpassningar?
Intune and autopilot is a fantastic tool for deploying windows 10 in a cloud only environment. But Autopilot is relying on hardware vendors for creating the windows 10 installation media. I will show you how to modify the vendors images and create your perfect windows 10 installation with Intune and Autopilot.
Microsoft TechDays är konferensen för dig som vill få inspiration, upptäcka spännande nyheter och fördjupa dina kunskaper kring Microsofts produkter och tjänster. Det är en unik mötesplats med några av världens främsta talare och årets bästa tillfälle för kompetensutveckling och trendspaning. Vare sig du är intresserad av tekniska sessioner eller vill få en strategisk överblick av det senaste, så är TechDays konferensen för dig.
About The Author