Advanced Threat Analytics 1.9
Ny version av ATA finns nu ute!
Nytt roligt larm att detektera:
Suspicious service creation: Attackers attempt to run a suspicious service on your network. ATA now raises an alert when it identifies that someone runs a new service, that seems suspicious, on a domain controller. This detection is based on events (not network traffic), for more information
För er som inte vet vad Advanced Threat Analytics är:
ATA är en övervakningscentral för att övervaka domänkontrollanter efter abnormalt beteende.
Identifiera hot snabbt med beteendeanalys
Med självlärande och avancerad, analysklar information behöver du inte skapa regler, finjustera eller övervaka en flod av säkerhetsrapporter.
Anpassa dig lika snabbt som dina hackare
Lita på kontinuerligt uppdaterat lärande som anpassar sig till den föränderliga karaktären hos dina användare och företag.
Fokusera bara på viktiga händelser
Granska tidslinjen för attacken för en tydlig och praktisk vy över misstänkt aktivitet eller beständiga hot.
Minska antalet falsklarm
Ta emot varningar först efter misstänkta aktiviteter är kontextuellt aggregerade och verifierade.
Prioritera och planera för nästa steg
Få rekommendationer för undersökning av och åtgärder för varje misstänkt aktivitet.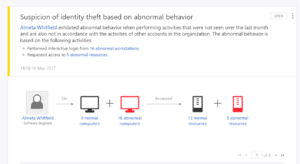 https://docs.microsoft.com/en-us/advanced-threat-analytics/whats-new-version-1.9
About Post Author