DART, ett måste i varje konsults bibliotek
Microsoft Diagnostics and Recovery Toolkit (DaRT) är en del av Microsoft Desktop Optimization Pack 2013 (MDOP). Denna har nyligen släppts i version 8.0 SP1.
Tyvärr finns ingen "officiell" version ännu för Windows 8.1 men den kommer förmodligen strax efter release.
För att få tillgång till MDOP måste du betala ett tillägg för denna ovan på ditt Software Assurance avtal. Men MDOP finns också tillgängligt som test och utvärdering för MSDN och Technet prenumeranter.
Börja med att ladda ner MDOP ISO image.
Sedan måste du även ladda ner Windows 8 ADK och installera Windows PE och Deployment Tools. Dessa behövs till installationen av DaRT.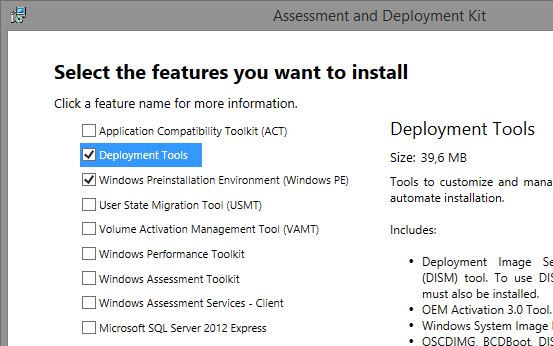 Nästa steg är att installera DaRT. Montera ISO imagen med MDOP och gå in i katalogen \DaRT\Installers. Observera att det finns 6 olika versioner av DaRT installation. MSDaRT801.msi är den senaste till Windows 8.
Som standard installeras alla tre komponenter Crash Analyzer, DaRT Recovery Image, och DaRT Remote Connection Viewer. Det blir strålande!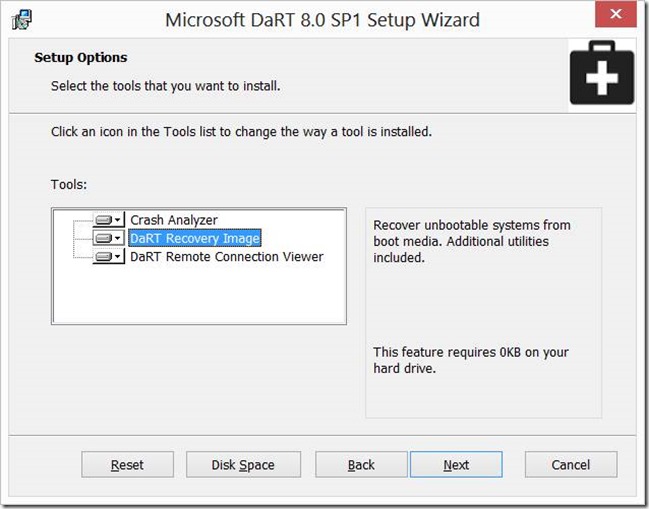 När DaRT är installerat hittar vi Microsoft DaRT Recovery Image Wizard (DaRTImage.exe) i startmenyn.
Denna behöver sedan en Windows 8 DVD med boot.wim. Så se till att det finns en tillgänglig.
Du kan sedan välja mellan att skapa en 32 bit eller 64 bit skiva, och peka ut en DVD till denna version av Windows 8.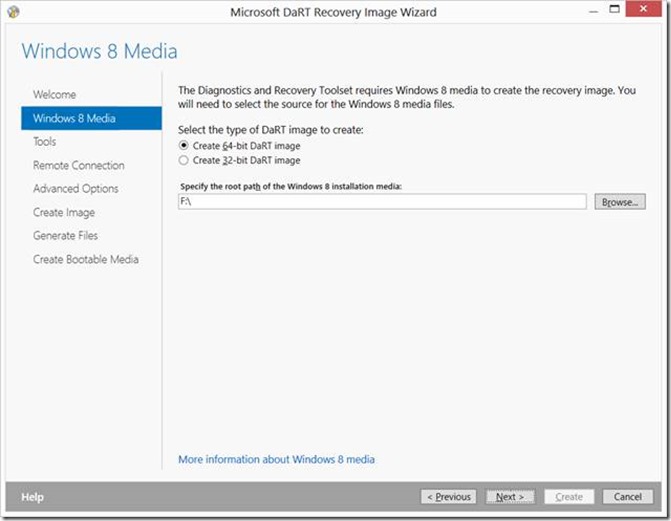 I nästa dialog får du välja vilka verktyg du vill ha på din skiva. Självklart vill vi ha alla verktyg!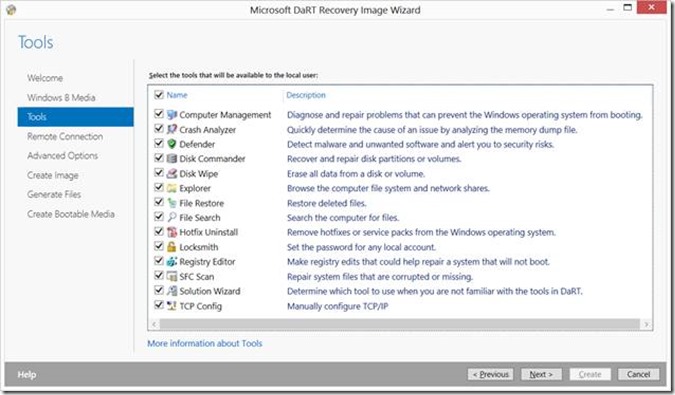 En cool feature är att vi kan boota igång på recovery media och sedan fjärrstyra denna maskin med remote desktop.
Man kan till exempel lägga denna i WDS som ett PXE alternativ och be användaren via telefon boota med DaRT och sedan reparera remote.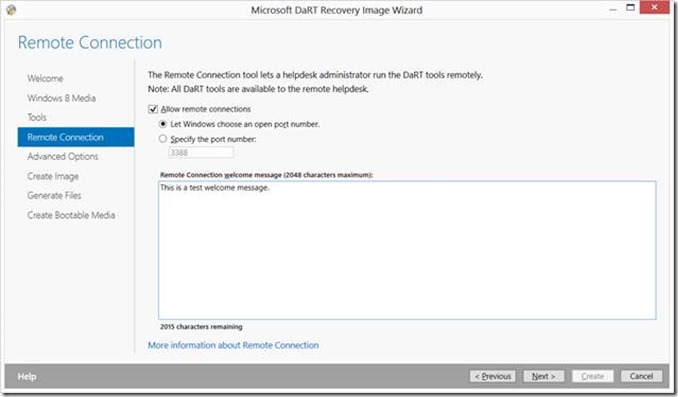 Under Advanced Options kan du lägga till drivers. Du kan också lägga till ytterligare CAB paket till WinPE med flera verktyg och tredjeparts lösningar.Om du lagt med verktyget Crash Analyzer måste du peka ut sökvägen till Windows debugging tools. Denna behöver installeras.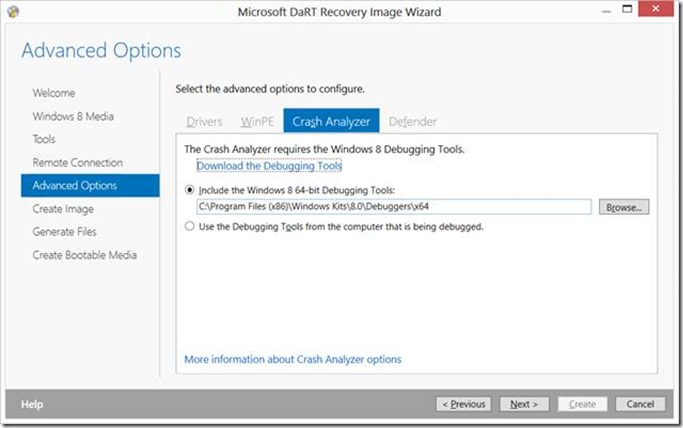 Slutligen skapas en WIM och en ISO samt ett powershell script på hur den byggde media. Du kan sedan direkt skapa en bootbar CD, DVD, eller ett USB.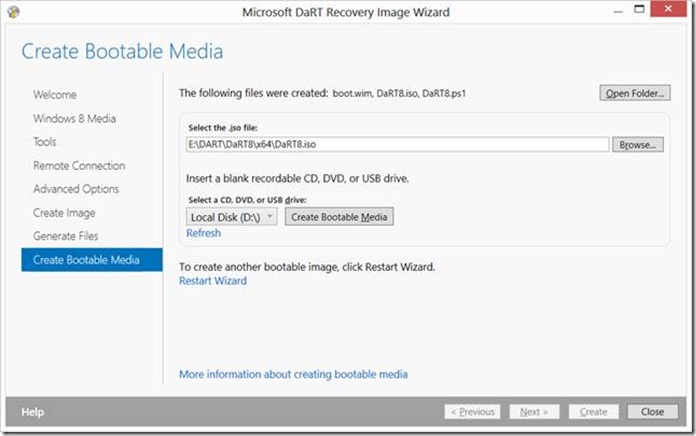 Dax att testa skivan. Boota en dator och börja felsöka!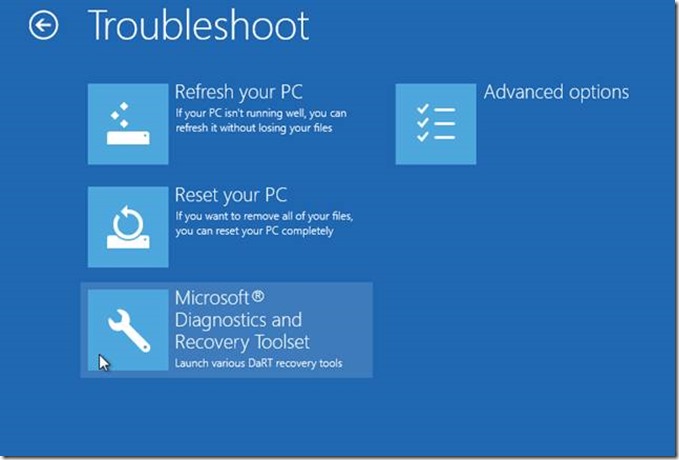 About Post Author